A Fun, Unique Bike for the Family
Designing sweet colored cargo bicycles with rear buckets that can carry up to four kids plus cargo, MADSEN Cycles puts a new twist on family bikes. We hope your whole family falls in love with your new MADSEN bike — as we have.
Bike Outside, Make Memories
A bicycle for the whole family, a MADSEN bike makes it easy for you to get your children outside to create unforgettable and happy memories. Pack sandwiches and drinks, strap your kids into the bucket, and head to the park. The bucket is equipped with two removable yet secure bench seats and four seatbelts, and able to carry up to 600 pounds!
If you have older children who have special needs or are unable to ride a bicycle on their own, giving them the chance to feel the exhilaration of a bike ride is priceless! Everyone deserves that, and riding will definitely put a smile on their faces — and yours, too.  Let our bikes help you create memories over and over again.
Get outside and make memories!
Ride in Style, Comfort, and Ease
We are not the first to place a bucket on a bicycle, but we are the first to do it right. Our bike is the first and still the only cargo kid bike in the US that can hold anything and everything, including children, groceries, picnics, and even dogs – without extra packs, bags, straps and buckles – just throw it in the bucket and go!
The MADSEN is designed for ease of use; it feels much like riding a regular upright bicycle. It has nine gears that help you cycle uphill, and a 20-inch rear wheel that makes the bike easy to balance. And now, with the addition of the electric pedal assist option with levels 1-9, the possibilities are endless! Our bikes have a classic, vibrant style that brightens the road, as well as your Instagram feed.
Leave your car at home and take your eco-friendly MADSEN out instead. Hop on and go on a little adventure with your kids, drop them off at soccer practice, or simply pick up groceries. Wherever you go, MADSEN will make the trip more fun and memorable for you and your family.
Contact us today, and let's ride!
Room for the whole family
Choose from one of our 9 bike colors. Bike and bucket colors can be mixed and matched to create a custom look that meets your style.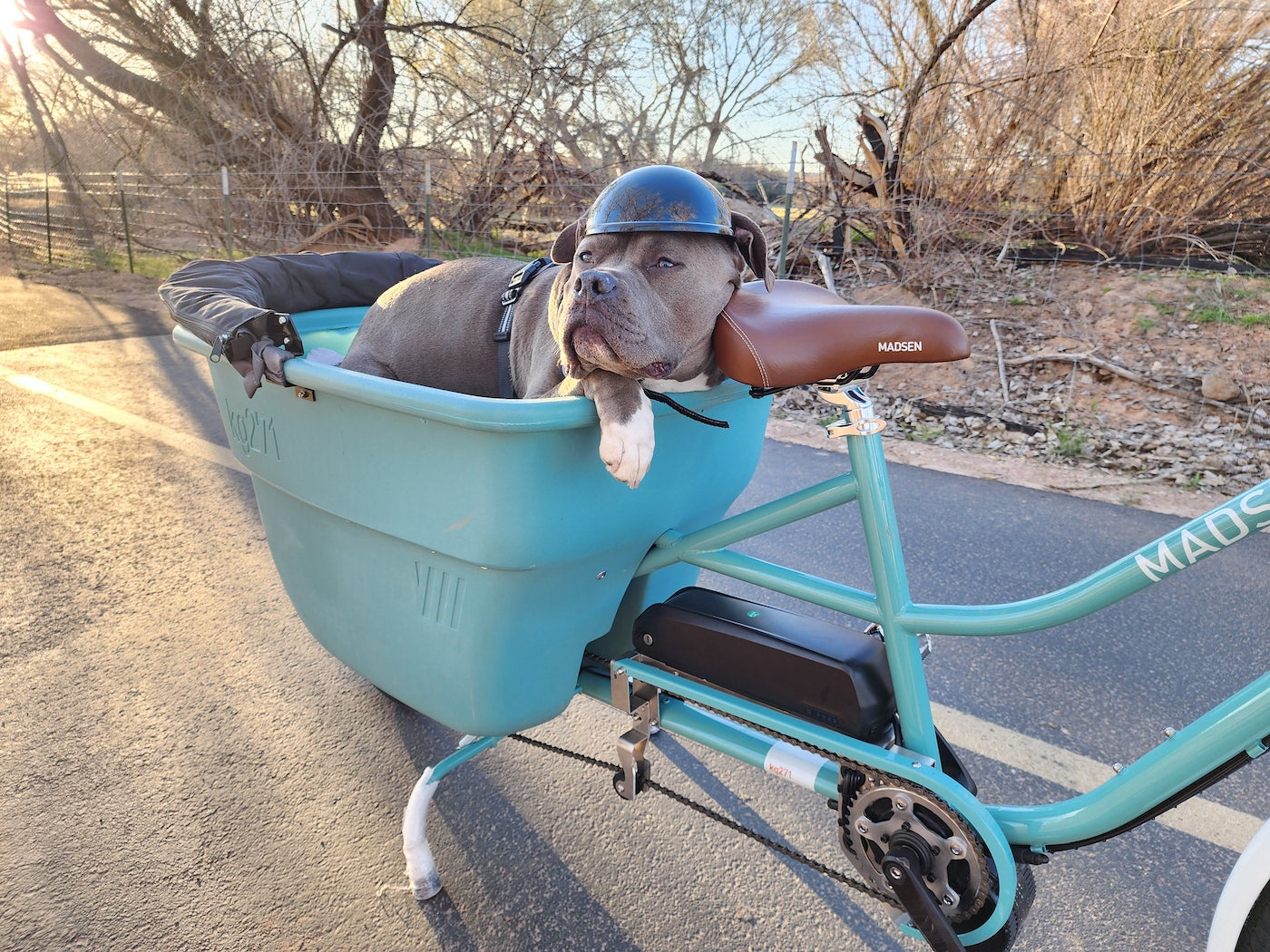 Must have accessories
Complete the look and utility of your ride with these carefully designed accessories that we love. Purchase your bike "LOADED" that includes some popular accessories or "EVERYTHING" that includes it all. Our Electric Bikes come equipped with the Custom MADSEN Electric Assist Kit, to add power when you want it.
Our Customers Love our Bikes
"It's the happiest bike ever. Makes everyone smile and I kind of feel like I'm in a celebrity entourage..."
"This bike has meant incredible FREEDOM for me and I seriously can't explain how happy this bike has made me... Everyday I'm now able to take my 5 kids out for rides and we play at parks and I owe it all to the genius that is Red Madsen, the creator of the Madsen Bike."
"we have been trying to find a better way for us to take Jackson to school... he is a while away from riding his own bike. when we found this amazing bucket bike I knew it was the perfect solution for our family to take the kids to school. thank you madsen cycles for creating a way for my Jackson to arrive at school with dignity & style :)
"Using this bike has been nothing short of perfect! We are having a total blast and look forward to many adventures on our Madsen! FIVE STARS!"
"Pretty day + a special someone to share my bike with = Grammy Adventure ... I hope [other grandmas] get as much joy as I have gotten in the short time I have owned my bike. I have 6 grandchildren and if isn't stormy or snowy we are out and about on my bike. #grammyadventure #grandmasmadsenbike"
"We are totally in love with our Madsen bike! We have two boys, 3 and 1... This bike is amazing! They love sitting in the bucket and getting to look around. It rides so smooth and after my first ride with the kids I felt completely comfortable on the bike. It was the best Christmas gift!!"
Write some content about what they are saying about your store.
Ready For Anything
The MADSEN Bucket Bike is Thoughtfully Designed to Take You and Your Family / Pets / Cargo Anywhere You Want To Go
MADSEN BIKE
All bikes are now available with electric assist if you would like, to add power when you want it. Check out the e-MADSEN bikes. Or, choose a basic MADSEN without e-assist.
SECURE SEATING
Our bucket bike requires no additional accessories, which makes it affordable compared to other cargo bikes. Inside the bucket are 2 removable bench seats with 4 seat belts to keep your little ones safe. Middle seat is also available.
ATTENTION TO DETAIL
Includes integrated front wheel lock and front and rear thru axle hubs. Our patented heavy-duty kickstand™ is designed to load and unload your cargo with safety and ease.
WORKHORSE BICYCLE
Tested to carry 271kg (approx. 600lb) of weight, the MADSEN is not just beautiful, but notably rugged and tough. Now with e-assist, the possibilities are endless.