f
MADSEN Electric Assist Kit - *Black Friday* SALE
$1,585.00
$1,685.00
saving
$100.00
MADSEN Electric Assist Kit - *Black Friday* SALE
$1,585.00
$1,685.00
saving
$100.00
**FITS MADSEN BIKE MODELS 2011 - CURRENT (can fit older models with modifications)
(ORDER YOUR NEW E-MADSEN, with kit installed for you, on bicycle product pages)
**Currently un-able to ship to Hawaii & Alaska
Add some serious power to your existing MADSEN bike! With the same quality and detail you have come to expect of MADSEN, our custom MADSEN 750 watt mid drive electric assist kit is now available. With the e-assist, you will be able to add power when you want it. This add-on has exceeded our expectations and will be a game-changer for many. Get ready to use your bike even more, with heavier cargo and for longer, more hilly trips. It's amazing!
Specifications:
750 Watt Bafang Mid Drive Motor
80 Nm of Torque
Pedal Assist System with 9 Power Levels
Gear Sensor for Smooth Shifting
528 Watt (48 V 11 Ah) Battery with Charger 
Custom MADSEN Mounting Bracket with Integrated Junction and Lockable Battery Mount
LCD Display
Custom Sleek Look
Installation Available at our local Utah Shop Only ($100)
**Electric Assist Installation Step-by-Step Video Instructions 
**Electric Assist Installation Step-by-Step Written Instructions
Family Adventures Made Eco-Friendly with Electric Cargo Bikes
An adventure awaits your family with a MADSEN electric cargo bike. Sporting a colorful and beautiful design, your kids will have so much fun riding in the spacious bucket and creating memories outdoors. Plus, you'll be doing your part in caring for the environment by leaving the car at home.
Electric Cargo Bikes
What makes e-cargo bikes awesome is that they make pedaling easier. With pedal assist, the power kicks in to give you a boost when you pedal. You'll be flying up those hills in style with the kids, dog and groceries in tow.
You also control your power level and speed, so that you can ride at your comfort level and with as much assist as you want (or don't want).
Savoring the Outdoors
Did you know that studies show that green spaces improve one's mood and refresh the mind? Your electric bike is your ticket to a great time outdoors. It's also a perfect way to give kids a break from their countless screens, and instead be outdoors making memories and being active.
Spend Time with Your Family
Take your children outside and create lasting memories together. By nature, kids love spaces where they can roam and play. Pack sandwiches and drinks and head to the park. The kids will love riding in the bucket and feeling the wind in their faces. And you will love the conversations you can share with them while riding.
An electric cargo bike is not just for family adventures…you can also get ALL the errands done! The bucket will carry your groceries, dry cleaning, library books – you name it, without the hassle of traffic and refueling your car. You can take your kids to soccer practice, ballet classes, and art museums. You can even bring your pet along for the ride. The MADSEN cargo bike has a weight capacity of 600 pounds…and that's a lot of cargo! The e-assist will help you carry it all.
Caring for the Environment
By riding an e-bike with your family, you are doing your part for the environment. You minimize your carbon footprint and take advantage of better energy sources. What a great example to show kids one way to be eco-responsible.
Take your family on fun and eco-friendly adventures today! Contact MADSEN for inquiries about our bikes.
Customer Reviews
10/12/2020
Gordon H.
United States
We love our Electric Madsen
We live in a community with lots of parks and trails and this bike is perfect for it! The bucket leaves us plenty of room for treats, drinks and other essentials when we go out for a ride. We have literally taken this bike out everyday for the past 3 months, we're in love with it!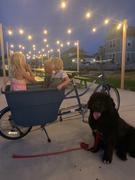 10/08/2020
Daniel a.
United States
electric motor assist
The motor works well. We had the motor professionally installed and the installer said the unit went on well. My wife appreciates the motor assist when grandchildren and small inclines come up!
10/01/2020
Lori P.
United States
This bike has become our preferred transportation
Since adding the e-assist to our Madsen Bucket Bike, we are riding it 5x more- nearly everyday! We live in an area full of hills and the extra kick makes it more fun, and less of a grind, for mom and dad. A commute to & from school in the bucket feels like adventure to our daughter. She loves it! I'm really happy about our upgrade!
09/26/2020
Bradley W.
United States
Love the Power Assist!!
The Madsen team was very friendly and helpful. They let us stop by the shop and test drive one of their bikes that had the e-assist. One ride, we were hooked! We've had our Madsen for almost 4yrs before adding the assist, now it is getting used so much more, longer rides, just for fun rides. Fully loaded with 4 kids? 18+mph? No problem We had the Madsen team install out e-assist kit. Extremely well done, very professional, great cable management. Hassle free.
06/02/2020
Mary D.
United States
Assist
My husband is a jack of all trades-has all the tools for all the things. We think the required tool should be included(charge more) in the kit. Or at least a list of all the needed tools to put the assist on. Like an email when order is received so while it's being shipped, all can be gathered. The YouTube video was helpful. One chain guard bolt on the bottom of my chain guard was stripped so that took some added work to remove too. The product is awesome.
Mary! Thank you for the review on the e-assist. We are happy you are loving your conversion to E-MADSEN! Thank you for the suggestions, and congrats on your own install - that's awesome. Cheers to bucket bike adventures!